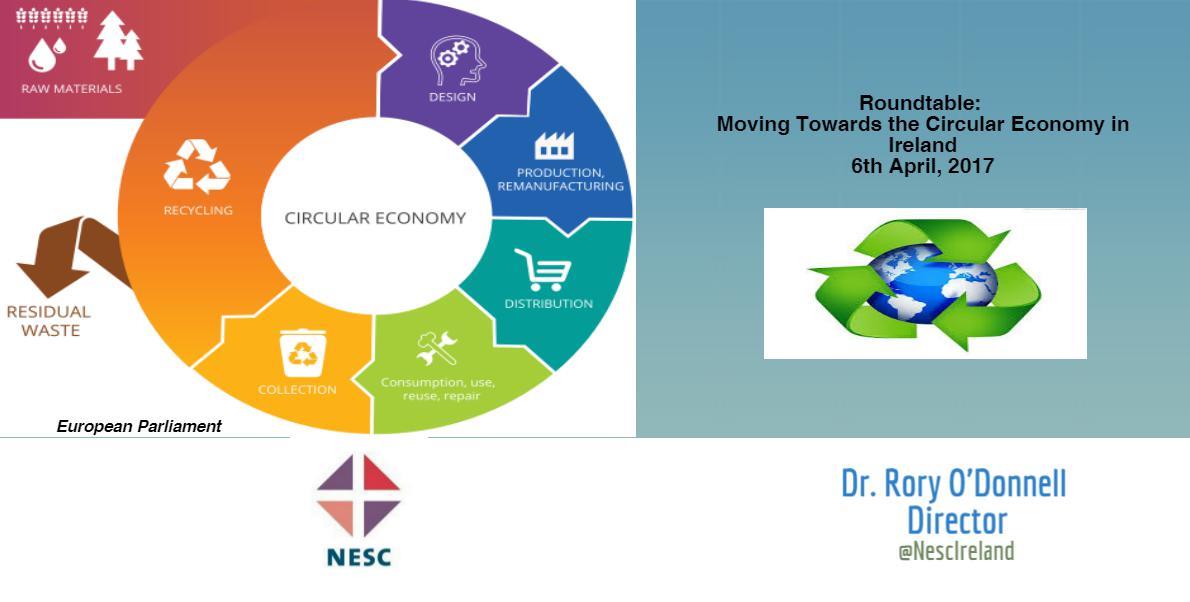 Roundtable: Moving Towards the Circular Economy in Ireland
11 April 2017
NESC hosting a small Roundtable event to provide an opportunity for discussion on the key strategic opportunities and challenges of progressing circular economy practices and policies in Ireland. The focus will be on the economic, social and environmental discussions, grounded in specific examples of the experiences of Irish companies and social enterprises.
As well as an Irish focus, the Workshop will include contributions from the Netherlands and Scotland, where the circular economy policy and practices have been advanced. While the EU's package of proposal on the Circular Economy are being finalised, a key question to consider is what would an ambitious approach to Irish circular economy development look like?
National speakers will include: Dr Simon O'Rafferty; Cecil Conaty, Wellman/Indorama; Dr Sarah Miller, Rediscovery Centre; and Tim Duggan, Enrich Soils. International speakers will include: Paola Migliorini, Directorate in charge of Circular Economy, European Commission; Professor Jacqueline Cramer, Utrecht University; Ramon Arratia, Ball Corporation; Iain Gulland, Zero Waste Scotland, and Emma Shaw, The Library of Things.
To view information about the day click on the links below;
Session 1 presentations:
Dr Simon O'Rafferty
Cecil Conaty, Wellman/Indorama
Dr Sarah Miller, Rediscovery Centre
Kevin McCabe, Enrich Soils
Session 2 presentations:
Paola Migliorini, Directorate in charge of Circular Economy, European Commission—Circular Economy: Actions from the European Commission
Prof Mike Norton, European Academies Science Advisory Council (EASAC)—Circular Economy: Issues from the European Academies' Perspective
Matthew Collins, Department Communications, Climate Action and Environment—Irish Policy Context for Circular Economy
Dara Lynott, Environmental Protection Agency—Living better, Using Less
Maeve Thornberry, Community Reuse Network—Reuse, Recycling and their Role in the Circular Economy

Session 3 presentations:
Prof Jacqueline Cramer, Utrecht University, Amsterdam—The Transition Towards a Circular Economy: A Multi-actor and Multi-level Challenge
Ramon Arratia, Ball Corporation (Previously at Interface)—Circular Economy
Iain Gulland, Zero Waste Scotland—Making Things Happen: Driving Scotland's Circular Economy Ambition
Emma Shaw, The Library of Things—Library of Things: The Community Sharing Business


To view presentations in video format click here

#NescCircularEconomy