You are here: Home > News & Events > NESC at 50: NESC Presents to Housing Commission on action to address the housing emergency
NESC at 50: NESC Presents to Housing Commission on action to address the housing emergency
7 March 2023
Topics: Housing
Types: News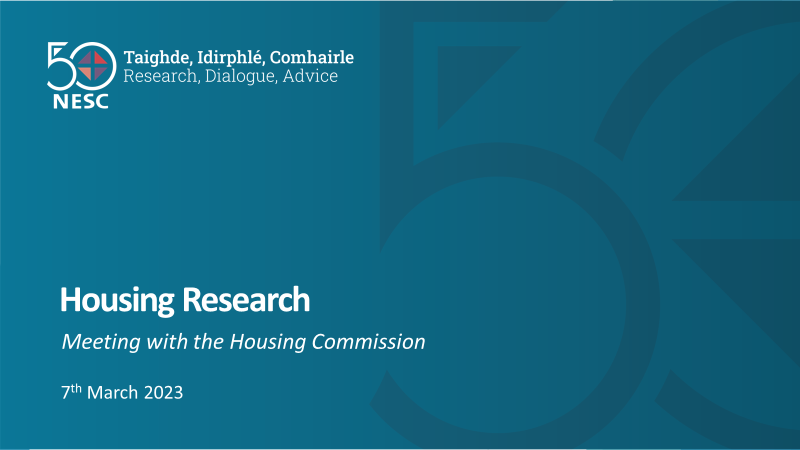 The challenges in housing must be tackled in the context of the system. Ireland must change its system of urban development, land management and housing provision. The system is dysfunctional and a wide range of actions are required to fix it.
This was a central message in the presentation by NESC to the Government's Housing Commission on Tuesday, 07 March 2023. The Government established the Housing Commission to examine issues such as tenure, standards, sustainability and quality-of-life issues in the provision of housing, all of which have long-term impacts on communities. This is to include efficient functioning of the markets for construction and provision.
NESC, represented by Director Dr Larry O'Connell, Dr Cathal FitzGerald (Senior Analyst) and Mr Noel Cahill (Economist) presented housing policy recommendations based on the Council research in the area in recent years.
"NESC is celebrating 50 years in 2023 and has a long record of analysis in the area of land use, housing, rental sector, and urban development policy", said Dr O'Connell. "There is an obvious overlap of this work and the work of the Housing Commission given their task includes examining the many aspects of provision of housing, including the efficient functioning of the markets for construction and provision".
Dr FitzGerald summarised the Council recommendations with an emphasis on their 2018 report 'Urban Development Land, Housing and Infrastructure: Fixing Ireland's Broken System' and 'Housing Policy: Actions to Deliver Change' from 2020. "Our recent analysis is concerned with two related issues. First, bridging the supply gap by actively managing land and locational value for public good. And second, bridging the affordability gap by engineering-in permanent affordability. The Council's reports detail steps necessary to bridge these two gaps by way of institutional adjustments, more effective use of existing policy instruments, and innovation to enhance the policy options available to the State", Dr FitzGerald said.
Presenting the finding of the Council's 2023 report on the private rental sector, Noel Cahill told the Commission that the huge pressures in private rental sector reflect housing shortages of all kinds, and that there is a need to increase private rental along with other tenures. "For private rental, NESC proposes actions in three areas: taxation, vacant property, and regulation", he said.
Overall, NESC said that there is the need for a vision and clear sense of direction. "There must be a widely shared view of what a better housing system looks like. In Ireland, the Council have been to the fore in arguing that a better housing system must be stable, affordable and sustainable, in economic, social and environmental terms", Dr O'Connell said. "This must be matched with an openness to new ideas and projects and pilots that will over time move the current system of housing, its institutions, working arrangements and practices, more in line with this overarching vision".
A copy of the presentation can be found here.

Follow us @NESCireland