You are here: Home > News & Events > NESC presents to ESB/IIEA Accelerate: The Transition to a Net Zero Future Conference
NESC presents to ESB/IIEA Accelerate: The Transition to a Net Zero Future Conference
18 October 2022
Topics: Sustainable development
Types: News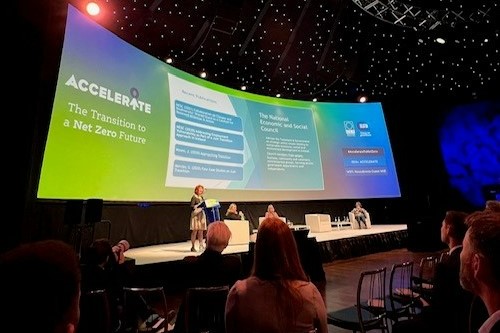 Just transition as a framework is under development in Ireland and countries across the world – moving from principles to practice. This requires a bespoke collaborative and inclusive approach with appropriate governance and resources.
This was a central message in the presentation by Dr Jeanne Moore, NESC Policy Analyst on Progressing a Just Transition Approach in Ireland, to the ESB/IIEA Accelerate: The Transition to a Net Zero Future Conference on Monday, 10 October 2022.
A just transition approach explicitly names principles, goals and values and facilitates societal engagement, while also seeking to ensure that the costs and benefits of the transition are equitably shared. Previous NESC work in 2020 examined Employment Vulnerability as Part of a Just Transition Approach in Ireland. It set out an approach to just transition as: one that seeks to ensure transitions are equitable and participative in process and outcomes at national, regional and local levels.
Dr Moore outlined to the conference that 'while just transition began as a set of principles, it is now being developed as practices in different forms. Countries such as Scotland and New Zealand are "learning by doing" through structures and dialogue.' Drawing on the Irish experience to date, Dr Moore concluded that 'there is considerable potential to learn from the Midlands and EU experience of just transition as well as internationally, providing Ireland with a leadership opportunity.' In her closing remarks, Dr Moore referred to the Council's latest project which is seeking to engage widely to further understand what a just transition approach can bring to agriculture.
A copy of the presentation can be found here.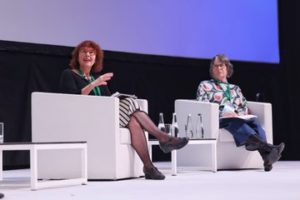 Follow us @NESCireland