You are here: Home > News & Events > NESC presents to Interdepartmental Group on Transport Orientated Development
NESC presents to Interdepartmental Group on Transport Orientated Development
13 October 2022
Topics: Sustainable development Transport
Types: News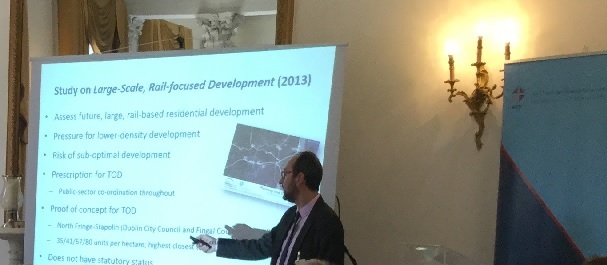 There is an opportunity to deliver a more sustainable form of urban and housing development in Ireland, but new supportive institutional and funding arrangements are required.
This was a central message in the presentation by Dr Cathal FitzGerald, NESC Senior Analyst, to the Government's Interdepartmental Transport Working Group on Monday, 10 October 2022. The Group was established in December 2021 under Housing for All, to consider opportunities for transport orientated development (TOD) in major urban centres. The Group is co-chaired by the Departments of Transport, and Housing, Local Government, and Heritage. Representatives from National Transport Authority and the Land Development Agency are also on the Group.
TOD is a form of urban development that seeks to maximise the provision of housing, employment, public services, and leisure space in close proximity to frequent, high-quality transport services. NESC completed an extensive study of the opportunities to deliver TOD in Ireland in 2019.
"TOD will not take place automatically. The Council's research has shown how a vision, decision, institution, and funding are all needed to make sure business-as-usual urban sprawl does not happen," Dr FitzGerald said. "The National Planning Framework, Housing for All, and the new National Sustainable Mobility Policy all set out a vision for TOD. There are also plans for Heuston Station, Shankill, Terrylands, Colbert Square, City Edge, Cherrywood, and Cork that have the potential to result in transport orientated developments. Finally, the Land Value Sharing and Urban Development Zones Bill could enhance the funding environment for TOD," he added.
"What is important now is that work on installing the right institution and funding mechanisms for TOD happens in parallel to making a decision on the exact site for the development," Dr FitzGerald told the Group. "The recent decision by the Citizen's Assembly on a Directly Elected Mayor for Dublin illustrates the types of integrated powers that are supportive of TOD in terms of housing, planning, land use, strategic development, transport, infrastructure, and the ability to secure funding," he concluded.
A copy of the presentation can be found here.

Follow us @NESCireland